SWRHA Public Board Meeting 2018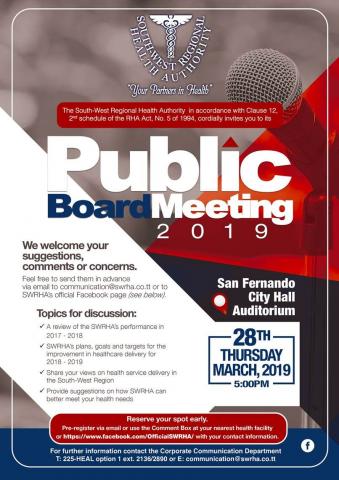 The South-West Regional Health Authority cordially invites you to it's Public Board Meeting 2019 on Thursday 28th March, 2019 5:00PM at the San Fernando City Hall Auditorium.
We welcome your suggestions, comments or concerns. Feel free to send them in advance via email to communication@swrha.co.tt or to SWRHA's official Facebook page (see below).
Topics for Discussion:
A review of the SWRHA's performance in 2017-2018.
SWRHA's plans, goals and targets for the improvement in health care delivery for 2018-2019
Share your views on health service delivery in the South-West Region.
Provide suggestions on how SWRHA can better meet health needs.
Reserve your spot early.
Pre-register via email or use the Comment Box at your nearest health facility or https://www.facebook.com/OfficialSWRHA/ with your contact information.
For further information contact the Corporate Communication Department:
Tel: 225-HEAL (4325) option 1 ext. 2136/2890 or Email: communication@swrha.co.tt