Point Fortin Hospital Rededication Ceremony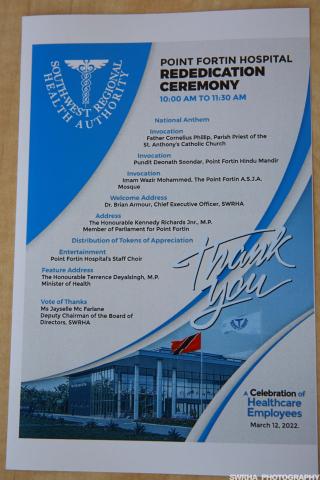 The South-West Regional Health Authority (SWRHA) in collaboration with the Member of Parliament for Point Fortin, the Honourable Kennedy Richards Jnr. hosted a Rededication Ceremony and Staff Celebration of the Point Fortin Hospital (PFH) on Saturday March 12th, 2022.
The Honourable Terrence Deyalsingh M.P. delivered the Feature Address. Also in attendance were Her Worship, Alderman Saleema Mc Cree-Thomas, Mayor of Point Fortin; Ms. Jayselle Mc Farlane, Deputy Chairman of the SWRHA; and Dr. Brian Armour, Chief Executive Officer of the SWRHA.
The Point Fortin Hospital on May 21st, 2021 was transitioned into the parallel healthcare system to treat persons challenged by the COVID-19 pandemic, following its grand commissioning on July 4th, 2020. During this time as a COVI9-19 treatment facility, the hospital admitted 2336 non ICU patients and 108 ICU patients. Additionally, 1990 X-Rays along with 423 CT scans were completed.
On Monday March 14th, 2022 at 8:00 am, the Hospital was reopened fully to the public, offering a complete suite of medical services, including Emergency care, in-person and outpatient services.