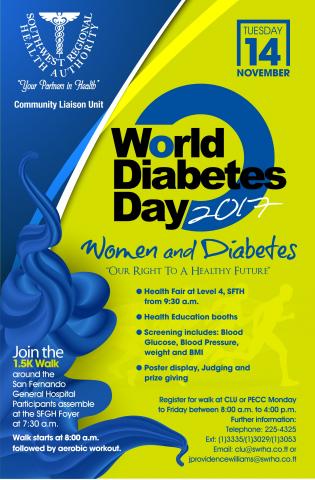 Women and Diabetes, "Our right to a healthy future". It is said that 1 in 10 women are living with Diabetes and many of these women do not have access to education, treatment or care. The Community Liaison Unit invites you to World diabetes day 2017 Walk and Health Fair on Tuesday 14th November 2017 help bring awareness to our mothers, daughters, sisters and friends by joining us in:
1.5k walk around the San Fernando General Hospital participants assemble at the SFGH Foyer at 7:30 a.m. Walk starts at 8:00 a.m. followed by aerobic workout.
Health Fair at Level 4 SFTH from 9:30 a.m.
Heath Education booths
Screening includes: Blood Glucose, Blood Pressure, weight and BMI
Poster display, Judging and prize giving
Register for the 1.5 k walk at the Community Liaison Unit (opp. Nursing Lounge) or Patient Education Counselling Centre (first floor, SFGH) Monday to Friday between 8:00a.m. To 4:00 p.m.
Further information: Telephone 225-4325 Ext: (1)3335/ (1)3029/ (1)3053
Email: clu@swrha.co.tt or jprovidencewilliams@swrha.co.tt