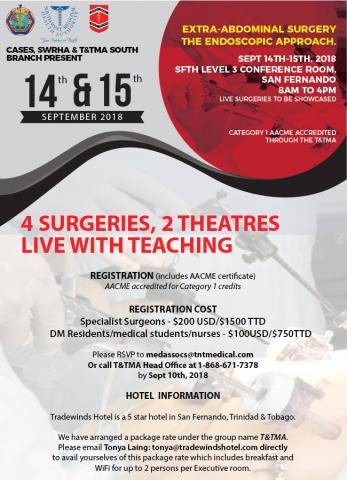 Cases, SWRHA & T&TMA South Branch presents
Extra-Abdominal Surgery the Endoscopic Approach.
Sept 14th-15th, 2018 at SFTH Level 3 Conference Room, San Fernando 8am to 4pm. Live surgeries to the showcased category 1 AACME Accredited through the T&TMA
4 Surgeries, 2 theatres live with teaching
Registration (includes AACME certificate) AACME accredited for Category 1 credits
Registration Cost
Specialist Surgeons - $ 200 USD/ $ 1500 TTD
DM Residents/medical students/nurses - $ 100 USD/ $ 750 TTD
Please RSVP to medassocs@tntmedical.com or call T&TMA Head Office at 1-868-671-7378 by Sept 10th, 2018
Hotel Information
Tradewinds Hotel is a 5 star hotel in San Fernando, Trinidad & Tobago.
We have arranged a package rate under