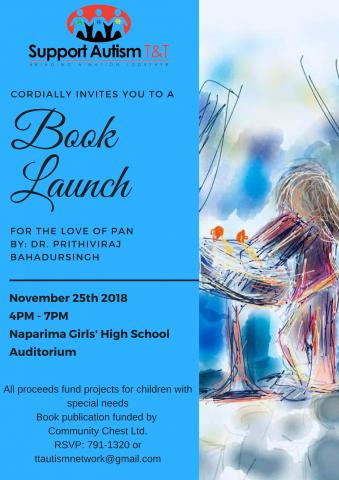 The Community Paediatric team of the South West Regional Health Authority in conjunction with the NGOs Community Chest Limited and Support Autism TnT would be launching a novel, 'For the Love of Pan'.
The novel was written by Dr. Bahadursingh, Consultant Community Paediatrician, SWRHA. This fictional novel depicts the life of a boy with Autism in Trinidad who rises to the heights of success in the playing of steelpan. The story takes the reader through the challenges that a family faces in our context. The novel is meant to educate, build awareness and also help with advocacy regarding Autism and differently-abled children in Trinidad and Tobago.
The book launch is being done also as a charity fund raiser and all funds raised would be utilized to do projects related to children with autism and other developmental conditions.
Date: Sunday 25th November 2018
Location: Naparima Girls High School Auditorium
Time: 4:00 pm
Cost of Book: $100
This event is open to all members of the public. Come out and Support Autism Awareness!